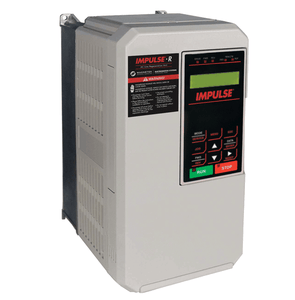 Magnetek's high performance AC Line Regenerative Systems are ideal for adjustable speed applications that include a high demand braking cycle. These industrial grade units take surplus regenerative energy from the motor and return it to the AC power source, reducing total energy consumption and improving energy efficiency.
AC Regenerative Systems are an ideal solution for:
High duty cycle cranes
Large cranes with multiple resistor banks for each motion
Severe duty, dusty, wet, or volatile environments
AC Regenerative Systems provide:
Energy efficiency
Cost savings - payback can be seen in the first year
Elimination of wiring for dynamic braking resistors
The IMPULSE R is designed to provide a low-cost solution to add line regeneration to your overhead crane. It is as simple to operate and IMPULSE R is sized identically to the connected variable frequency drive. The IMPULSE R can be easily retrofitted to replace dynamic braking units and resistors on existing controls.
Duke's got you covered! Let us know how we can help.