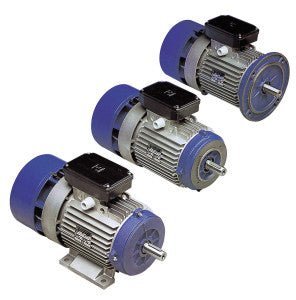 MGM squirrel-cage motors and brakemotors deliver the best performance and reliability combined with low or no maintenance. Designed for continuous duty also under tough service conditions, these brakemotors are used wherever very fast, precise, very high cycling and safe braking are the application needs. BA series represent today's most advanced brake motors technology.

Power Range: 0.12 HP – 100HP.

Main Features
All motors designed for inverter duty
Single Speed / Two Speed
Totally Enclosed Fan Cooled (TEFC)
Dimensional Standards per Nema Standard (Metric)
Flange Coupling per NEMA Standard (Imperial)
Continuous duty (BAX)
Engineered design
Oversized brake disc for high brake torque or long lasting (reduced maintenance)
Manual Brake Release
Fine brake torque adjustment
AC (3-ph.) brake – High Brake Torque/Very fast reaction Time
DC brake (single ph. with built-in rectifier)
Brake Terminals Connected with Motor Terminals or on a Separated Terminal Block
Electrical Standards per NEMA-MG1
Compact or Oversized Conduit Box
Pressed-steel brake cover
Molded plastic fan
Extremely low rotor inertias
Heavy-cycling application
Hex Hole on NDE for manual shaft rotation with Allen Key
cCSAus approved
CE Mark for shipment into Europe.
CCC approval for shipment into China
Go to Product Catalogues

Insulation System
Phase insulators
Vertical dipping
Slot Liners

Mounting Configuration
Feet Integrated in the frame
Foot Mount(B3)/Face Mount (B14)/Flange Mount (B5)
NEMA C face
Reduced or Increased flange/shaft size available
Suitable for mounting in any position

Optional Features
Severe duty protection (Wash Down – Marine)
50 Hz for worldwide use
Forced cooling for low frequency operation
Thermostat or Thermistors (PTC)
Classes H insulation
Mounted encoder
Drain Holes
Micro-Switch detector (ON/OFF Brake – Brake wear)

Typical Applications
Standard Induction Duty Applications
Rapid Cyclic Start/Stop
Palletizers
Packaging Machinery
Conveyors
Synchronized Systems
Speed Regulated
Winches
Transfer Cars
Stackers
Crane Hoist/End Truck/Trolley
Etc. See Applications Section
Duke's got you covered! Let us know how we can help.