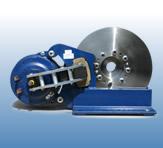 Description

Overview

Part List

Models

Resources
PT Tech's caliper disc brakes were designed to conform to the new AIST brake standard and upgrade cranes to the higher performance and the ease of maintenance of a caliper disc brake.
Benefits
Wear adjustment is far easier.
Less frequent need for wear adjustments.
Improved wear life.
Replacing friction pucks is substantially quicker.
A set of friction pucks weighs only 4½ pounds.
Eliminates drag and slip problems due to drum thermal expansion.
Significantly better resistance to heat checking
Applications
Steel Mill Hoist & Trolley Brakes
Bridge Brakes
Overhead Crane Brakes in Mills
Duke's got you covered! Let us know how we can help.