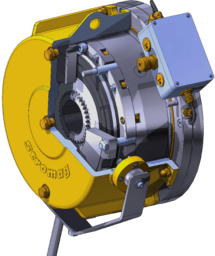 Description

Overview

Part List

Models

Resources
The spring-applied HPI brake from Stromag is designed for industrial and crane applications requiring a very high protection against harsh environment. With its high wear-resistance and compact design, the HPI brake assures a high durability.
Features
Braking torque range 100 – 1600 Nm
Degree of protection of up to IP 67.
Closed brake design.
Prevents wear and damage with special surface protection on all components.
Smooth operation without cover.
No carrier support required. Simple assembly to motor.
Hand release mechanism offering positive feel.
Proven reliable design.
Sealed inspection holes for air gap or brake lining wear.
Offers extremely low inertia.
Provides high heat dissipation.
Comes with a wide range of options like hand release lever, terminal box, preparation for speedometer installation, stand still heater, micro switches for switching stage and/or wear indication.
Application
Drives for port cranes and heavy machinery where high protection against harsh environment is essential. e.g. coal mining, steel plants and rolling mills.
Duke's got you covered! Let us know how we can help.